When I rotate the base on my twist-up tube it spins but the deodorant won't come out. Am I doing it wrong?
Twisting the tube base when the deodorant is cold will result in failure of the internal mechanism! Change in temperature during shipping may cause the deodorant to expand and stick to the tube walls. Please allow the deodorant tube to reach room temperature before using. DO NOT FORCE. For best results, squeeze the base of the tube while twisting. This will free the product from its packaging. If you break the internal mechanism of the deodorant tube, please contact us before opening any additional purchased items. Please view our return policy below.
---
So SodaWax is natural, but does it work?
We spent a year developing and testing our formula before offering it to the public.
The combination of ingredients work together to kill the odor causing bacteria, not mask it with perfumes.
It really works! …and lasts the whole day long.
---
I developed a slight rash and redness in my armpit after applying the deodorant. Am I allergic?
You probably aren't "allergic" to our deodorant, but most likely have a sensitivity to one of the ingredients.  The usual suspects are either the baking soda or the essential oils. We can't be sure because everyone is different. There is a very small percentage of customers that experience this. Sometimes it's just part of the detox period that occurs when an antiperspirant wearer switches to natural. In this case it's just temporary. If the issue continues, please try our Aloelujah natural deodorant designed for people with these sensitivity concerns. 
---
Why is powdered sugar one of the ingredients?
Sugar is a natural antibacterial and preservative. Sugar paste has been used to dress wounds for decades. Here's a link that explains in further detail: outdoorselfreliance.com
---
Is SodaWax an antiperspirant?
SodaWax Natural Deodorant does NOT contain aluminum therefore it is not an antiperspirant. There is no such thing as an aluminum-free antiperspirant. SodaWax does however contain tapioca flour and powdered sugar which have hydroscopic qualities that help with wetness.
---
Why use a natural deodorant instead of the ones you see at the grocery store?
We use only natural ingredients. Those other deodorants that most humans use contain ingredients that have been linked to Alzheimer's disease and various cancers. These ingredients include parabens, aluminum compounds, silica, triclosan, talc, propylene glycol and steareth to name a few. These chemicals are used to mask odors and block your sweat glands from producing sweat. That doesn't seem natural to us.
---
Do I use SodaWax as I would any deodorant?
Yes, but allow the deodorant to absorb into the skin before dressing. You want it on your body, not your clothes. Five minutes should do the trick!
---
Why does my SodaWax deodorant seem a bit softer in the Summertime?
Don't worry, that's natural. Our main ingredient is coconut oil which has a low melting point. You'll notice a slight change in firmness depending on the ambient temperature but it will always maintain its solid form. Our deodorant is formulated not to liquify like other brands do, even in Summer.
---
Will SodaWax stain my clothes?
SodaWax Natural Deodorant is aluminum-free, so you never have to worry about those awful yellow pit-stained shirts. SodaWax is however a coconut oil-based product. Coconut oil is necessary to neutralize odor-causing bacteria. Like any oil, it has the potential to leave marks on clothing. For best results, apply deodorant to underarms after bathing and wait five minutes before dressing. This will allow the deodorant to absorb into the skin, giving you the best protection as well as minimizing oil transfer to your garments. To remove oil marks from clothing, simply wash garment in a hot wash cycle with your normal laundry soap. For persistent oil marks, add a non- chlorine oxygen bleach powder to your wash cycle or directly apply a grease-cutting liquid dish soap to garment prior to wash.
---
What is your return policy?
We do not refund or replace orders that have been tracked and delivered to the provided address. Orders delivered to an incorrect address will not be refunded or replaced. If your tracking number indicates that your order has been delivered and you have not received your order, please contact your local post office to file a claim.
We gladly accept returns of one opened item from your first order. We do not refund multiple opened containers. For multiple units purchased, we will refund the cost of one opened container and any unopened containers that are able to be resold.
Refunds may only be returned with a company-issued return label. Items sent without a company-issued return label will not be refunded. To request a refund, please contact us within 14 days of delivery.
We will refund the full purchase price of your order minus return shipping. Return shipping is $5 for the first item and $2 for each additional item. Items must be sent within 48 hours of receiving your return label.
WE DO NOT ACCEPT EXCHANGES.
---
The Facts About SodaWax!
SodaWax's humble beginnings originated in the Seattle glassblowing community. Frustrated with yellow aluminum stained shirts after a sweaty day in the glass shop, we began a quest for a deodorant that was free of aluminum and toxins. Unable find a natural deodorant that could withstand the 100+ degree plus environment for long hours, we developed our own…SodaWax!
Each tube is hand-poured in small batches to ensure quality. SodaWax Natural Deodorant doesn't mask odor with perfumes. It's a combination of six simple, natural ingredients that work together to kill the odor causing bacteria for 12 hours or more. How natural are we? We use only edible ingredients…
Coconut Oil
Beeswax
Powdered Sugar
Tapioca Flour
Baking Soda
Essential Oils (No Synthetic Fragrances)
SodaWax Natural Deodorant is made with edible ingredients.
You could actually eat it. Not sure why you would, but hey, you could!
Can you say that about your current deodorant?
Most other deodorants have a long list of ingredients including synthetic fragrances, sulfites, aluminum & artificial preservatives.
Some even contain ingredients linked to cancer, such as parabens, silica, triclosan, talc, propylene glycol & steareth.
Looking for a truly safe and healthy natural deodorant that actually works?  Then look no further!
pick up a tube of Aluminum-Free SodaWax today.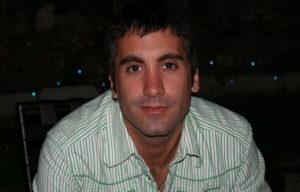 My name is Tony and I make deodorant.
I didn't always make deodorant. I actually made glass before that. Blown glass to be exact, for 20 years. I was fortunate to work with many of the world's best glass artists & artisans during my glass career and I still watch the blown glass community continue to evolve from a distance. I am just as passionate about SodaWax as I am about glass. This is a great product that I know you'll love just as much as I do.