The Facts about SodaWax.
Looking for a natural deodorant that actually works?  Then look no further!
Pick up a tube of Aluminum-Free SodaWax today.
Each tube is hand-poured in small batches and is 100% natural.
We use only six simple ingredients to make our deodorant:
Coconut Oil

Beeswax

Powdered Sugar

Tapioca Flour

Baking Soda

Essential Oils (No Synthetic Fragrances)
In addition to being 100% natural, our ingredients are 100% edible.
You could actually eat it. Not sure why you would, but hey, you could!
Can you say that about your current deodorant?
Most other deodorants have a long list of ingredients including synthetic fragrances, sulfites, aluminum & artificial preservatives.
Some even contain ingredients linked to cancer, such as parabens, silica, triclosan, talc, propylene glycol & steareth.
So SodaWax is natural, but does it work?
We spent two years developing and testing our formula before offering it to the public.
The combination of ingredients work together to kill the odor causing bacteria, not mask it with perfumes.
It really works! …and lasts the whole day long.
Each solid stick pushup tube is 3.5oz (99g).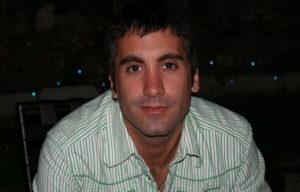 My name is Tony and I make deodorant.
I didn't always make deodorant. I actually made glass before that. Blown glass to be exact, for 20 years. I was fortunate to work with many of the world's best glass artists & artisans during my glass career and I still watch the blown glass world continue to evolve from a distance. I am just as passionate about SodaWax as I am about glass. This is a great product that I know you'll love just as much as I do.